Willcome to Commissioning Training
Understand the Commissioning Process for
Power Plants

Improve your specialty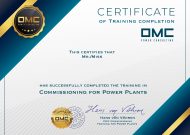 Certificate
training



Real
opportunity
Jobs


It is not easy to find engineers with this specialty, more and more projects are looking for professionals with this specialty worldwide.
OMC Power Cosulting have developed this training with certificate based in practical experience and give a oportunity of preparation for commissioning.
Why the Commissioning is important in the Power Plant Project?
The commissioning process is very important because allows to verify the design of the plant, safety star up without incidents, or worker's injuries, no equipment malfunction; guarantee a good turnover from Construction to Commissioning and reach the certification ready for production.
Many Power Plants Projects need specialist in Commissioning and is not easy found professional with this specialty, in this site you have the opportunity to make training and learn this wonderful specialty.